Teens & Adults (Murder Mystery)
Digger is author Robert D Calkins' debut novel, a murder mystery for teens and adults.
Bryce Finn started out using his Golden Retriever Sierra's nose to win at childhood games of hide-and-seek. Now 17 and Washington state's youngest SAR dog handler, Bryce and K9 Sierra are hip deep in a series of murders that some political leaders deny is happening at all.
Bryce and Sierra continue to be one step behind whoever is dumping bodies, and one step ahead of detectives from their local sheriff's office. As the body count grows Bryce risks his career, and eventually his life, to unravel the case of the Chimera Killer.
Along the way Bryce meets and nearly loses his first love, and learns the manly art of saying "yes, dear" at all the right times.
"Digger is an entertaining and realistic look into the world of K9 search and rescue. A truly enjoyable read with a terrific twist at the end." – Andy Rebmann, author of The Cadaver Dog Handbook.
Beginning Readers (Adventures in the Wilderness)
Bryce Bumps His Head  
Buy on Amazon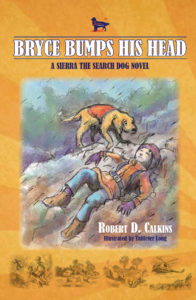 When a local Girl Scout gets separated from her troop, Sierra the Search Dog is called in to find the wayward girl. The weather is awful and the ground is steep and slippery.
When Sierra's handler, teenager Bryce Finn, slips and hits his head, Sierra now has two people to rescue. Can the little Golden Retriever SAR dog get help for Bryce AND find the missing Girl Scout?
Bryce Bumps His Head is a story of wilderness safety, quiet leadership and K9 heroism for elementary-age beginning readers.
Pre-schoolers (Fun Stories for Kids, Fun Reading for Parents.)
Sierra Becomes a Search Dog
Buy on Amazon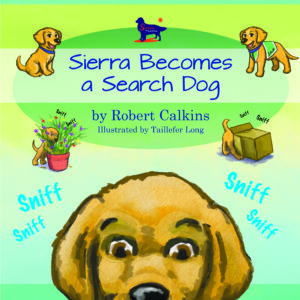 Sierra, a Golden Retriever puppy with a knack for hide-and-seek, becomes an unlikely hero when a little neighbor girl gets lost in the woods. With practice and persistence little Sierra turns a children's game into a life-saving mission, earning the vest that marks her as an official search and rescue dog.
Inspired by the author's own experience training and leading SAR (Search and Rescue) dogs, Sierra Becomes a Search Dog is the first in a series of books for all ages about K9 Sierra.
Sierra the Search Dog Finds Fred 
Buy on Amazon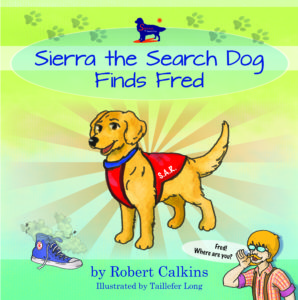 Having earned her official SAR (Search and Rescue) vest in Sierra Becomes a Search Dog, our hero is called upon to save the day once more. Sierra has grown since her last adventure and the little Golden Retriever puppy's sense of smell is better than ever! This time, it's Ted who needs help: his free-spirited roommate Fred has gone missing!
After a whiff of Fred's stinky sneaker, Sierra sets out on another exciting search full of twists and turns, humor and suspense. Will she find Fred while he dances to the beat of his own drum?
With whimsical rhyme, colorful illustrations, and educational facts, Sierra the Search Dog Finds Fred is the second in a series of books for all who love dogs and adventure.